Best Wall Color for Photo Studio
Our photography studio in New Jersey is open and booming. It's already been 2 years since we are taking amazing images in this photo studio. And I can tell youthat I am very happy with the color. But let's get back to the very beginning. It was hard to find premises for photo studio that was exactly right, but we got there in the end. As you know a photographic studio not only needs to be in the right location, but has other specific requirements as well. You can read the requirements of a photographic studio in this article.
We have at last found our best fit premises for perfect photographic studio in New Jersey, a beautiful penthouse situated at 15 Warren Plaza, Suite PHE-1,  Hackensack NJ 07601.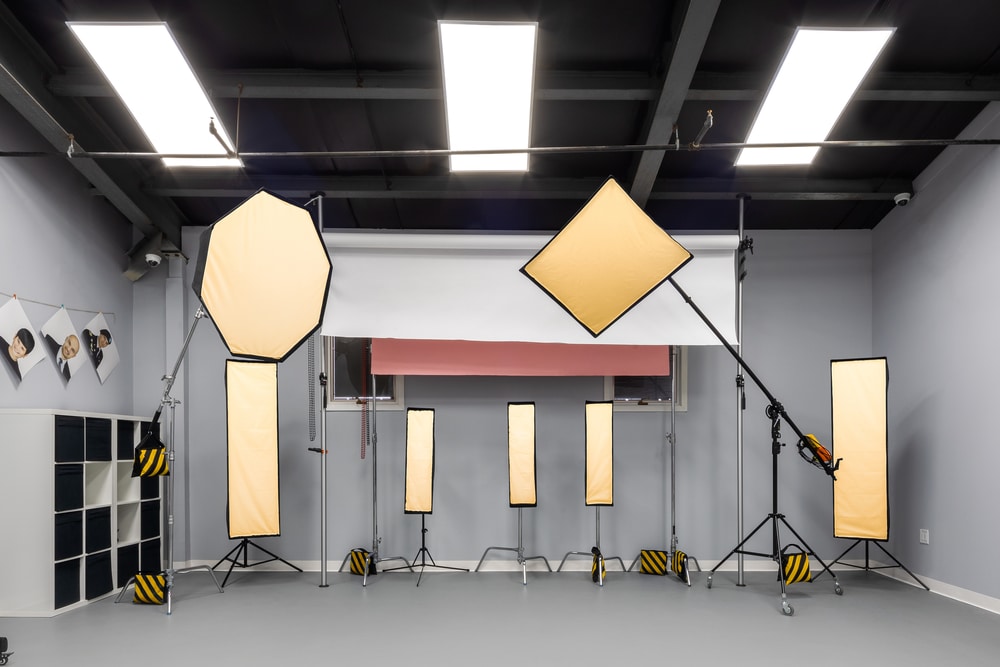 Painting walls of photographic studio
After lengthy and precise planning of the photo studio and office space, it was time to choose the color of the rooms. As this could only be white or a shade of grey, we decided to use Benjamin Moore paints from the local store in New Jersey. We picked three colors from the range – 1616, 1615 and 1614 – all shades of grey. Although they looked all right, we weren't sure since the sample cards were very small. We actually needed to try them out on the walls to make sure.
My son Aiden and I headed for the studio after school. We selected part of the wall which was lit by natural light from the window and could be illuminated by office lights. This was to help us make the right decision as the color grey varies in shade in different sources of light.
We painted three approximately 4x5ft rectangles on the wall, and this was enough for us to make up our minds.
We had to wait about 30 minutes for the paint to dry and become smooth and even. Always curious, Aiden managed to discover a closet full of toys left by the previous occupants. We found our favorite game, "Monopoly", which helped us kill another hour while the paint was drying.
ONCE IT WAS DRY, EVEN AND SMOOTH! We realized that 1616 was almost black, which you would soon get fed up with in a place where you plan to spend hours in creative activity. But 1615 and 1614 were just right, so we chose 1615 for the studio and 1614 for the rest of the office. So we used the one in the middle and the one on the right.
There are a couple of things you need to remember. You shouldn't use any other colors in a photo studio since they leave undesirable colored shadows on your photos. Both grey and white work well. White walls act as a diffuser in the studio, while grey shades absorb most of the light.
As a commercial and product photographer, I personally like to control all the lights during a shoot. So, this is why I chose grey. But many portrait photographers prefer white walls as they use the light that is reflected off them to combat the shadows.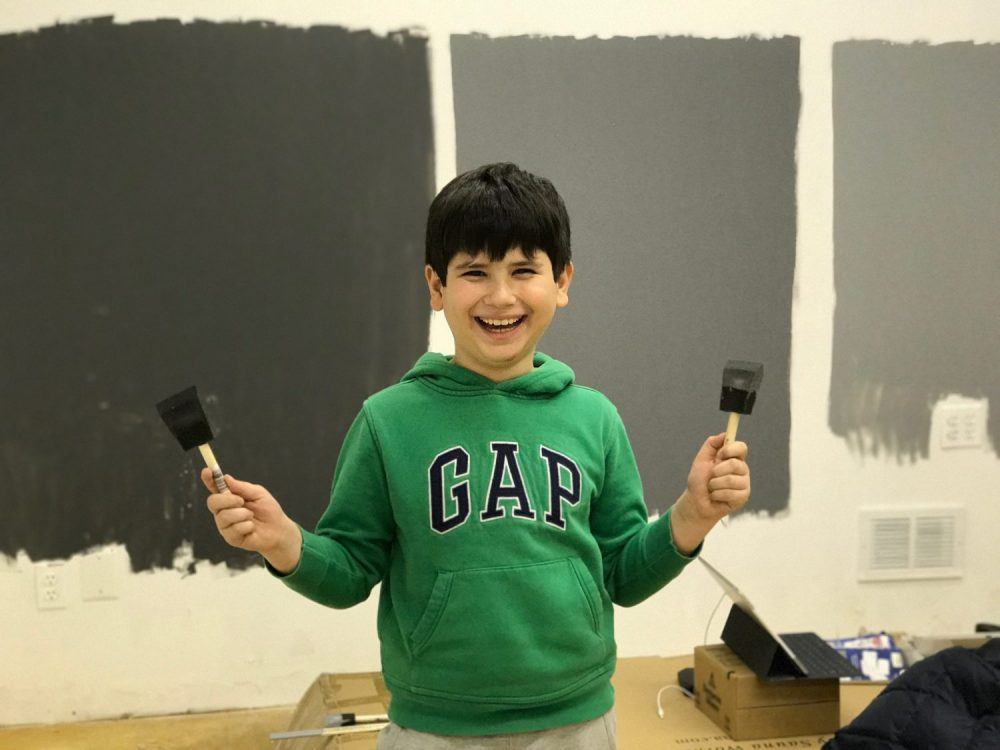 Another thing is that the walls should be painted in matte and not gloss  since glossy surfaces increase bright light reflections and scatter light all over the studio.
What's more, we are going to paint our ceiling matte black, which will absorb the light as well. Our floors will be covered with dark grey vinyl. I do not advise carpet in a studio as this makes it difficult to move the stands around and carpet will easily get dirty while shooting food or splash photography.
Update: Dec 7, 2017
Note: Finally we decided to go with Benjamin Moore 2121-40 (Silver Half Dollar).
Best color for photo studio walls as all others appeared to be very dark since we had only 2 small windows in our main studio room. But if you have wider windows and more natural light coming in, you are good to go with 1614.
Update: Jan 25, 2018
Our photography studio is open already for 4 months and I can't explain how happy  I am with my color selection.
First off, color is perfect for photography studio because it leaves  slightly cold cast on the images. The color that we chose contains a small amount of blue tint which helps the images to be slightly colder. It's my personal preference as I don't like warm tones at all.
Second and the most important is that it reduces unnecessary reflection approx. by 30-40%. It helps to keep the lights under complete control.
And finally it looks really sexy, isn't it? :-)

Here is the actual image of our studio after all renovations
Comment below and I would love to answer your questions. And don't forget to check out my portfolio!