Create Swatches on the Arms for Beauty Products
If you need to market cosmetics via social media, swatches can be extremely powerful. With the help of these captivating images, you can apply product samples to the skin so that consumers can see the color and blend ability before buying the product. A cosmetics photographer can create swatches on the arms for products like concealer, eyeshadow, blusher, foundation, and bronzer.
To create stunning smears, it takes excellent artistic or handcraft skills. The good news is that to create swatches on the arms is actually really straightforward when you have the right tools at your disposal.
Hand models
You'll need to enlist the services of a hand model to be able to capture this type of image. In fact, to show how the specific cosmetics will look on a variety of skin tones, the majority of brands work with a number of hand models.
When selecting a hand model, it's important that you look at their nails and fingers. You want to ensure that there's nothing, like a tattoo, that will divert the focus away from the product. Also, models with longer arms are better suited for this type of product shoot.
If you want your viewers to focus on the swatches itself, nude is the best color for nails. This way, you'll create an amazing image and keep the focus on the product.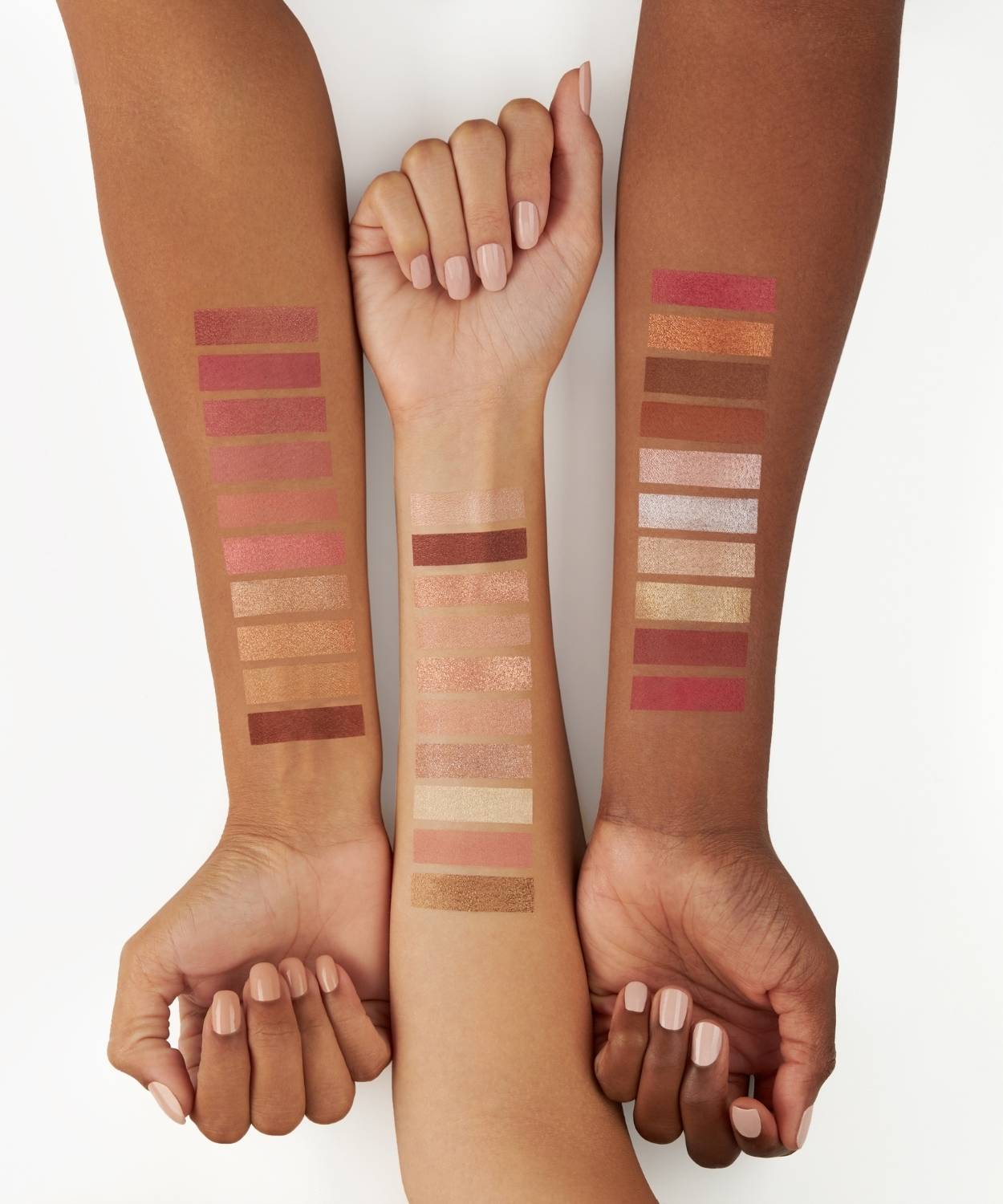 Tools needed to create swatches on the arms
Here's a list of the things you'll need:
Table or colored surface of your preference
Lots of wet napkins and paper towels
Before starting the process, define the exact position of the swatch. It's important to make sure that all the swatches are placed in exactly the same position on all of the images. Also, take into consideration the crop and ratio of the final image.
Based on my experience, a good place to start is 1-1.5 inches above the wrist crease. The easiest way to create a uniform shape is to use stencil swatch stickers. These stencils come in different shapes and sizes and will help you to apply the product easily and maintain a consistent shape.
Before applying the stencil swatch stickers, make sure you have a clean hand without any moisturizers or creams applied to it. Otherwise, the sticker won't stay in place during the application process.
The easiest way to apply the product is to use your fingers and apply it with rotational movements. When you're done, use a rubber tool and swipe over it with one movement to make sure the product has a smooth surface. When you need to remove the sticker, hold the skin on one side to keep the shape undistorted. Now it's time to shoot!
Lighting setup for creating arm swatches
The lighting is relatively easy for this type of shoot. Try using big strip boxes as close as possible to the subject to get dynamic lighting. Also, when placing the soft boxes, take into consideration that models need to sit there while not blocking the lights. For the majority of my projects, I use strobe lights.
Camera setup
You need to mount the camera overhead and shoot tethered to have full control over the camera. I recommend using your sharpest lens and set it to a minimum of 90mm focal length to avoid any possible distortion.
That's a Wrap
While the process of creating arm swatches is quite simple, it's very time-consuming and needs a lot of patience. Precision is very important to get great results. Though, rest assured, these images are worth it. You'll attract thousands of eyes!
If you're based in the USA and need swatches like this, you can place the order online and ship the products to us for free. From hiring the models to delivering the images to you, I'll take care of the rest.
What's more, for extra rest assurance, I also offer a 100% money-back guarantee. So, there's nothing to worry about. I specialize in cosmetics photography and have 20 years of experience. During this time, I've worked with hundreds of cosmetics manufacturers. Every day I create a lot of unique content and look forward to helping you to create arm swatches.